What's New
Heibao EVs are on sale in China
Heibao EVs got approved by Chinese authority, and are on sale in several cities in China, eg Weihai city, Hainan Islands,etc.
Heibao Electric Car 2003 arrived in Toronto. Anyone who has interests is welcome to come to our showroom to see it. For appointment, please email to: sales@torontoelectric.com.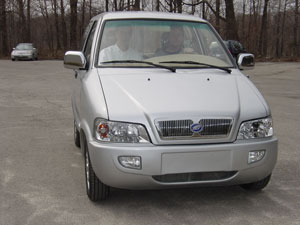 Conversion using Heibao AC motor and Inverter

is converting a 1991 Toyota Tercel using Heibao Advanced AC motor and Inverter. For more information about the conversion, please contact them: sales@torontoelectric.com
Tour de Sol

Heibao's Electric Car was in the Tour de Sol in the U.S.A. From May 9 - May 14.
Thanks very much to Mr. Glen Elliott, Mr. Steve Dallars, Mr. Monte Gisborne for their dedication and hard working to make the Heibao EV's debut in USA so successful., Thanks a lot.
Below are some pictures: